RCA Victor's Living Stereo classical albums are among the most beloved recordings ever set to tape. Produced from 1958 to 1965, the Living Stereo titles, which cover various genres beyond classical, have been universally praised by audiophiles for their sonics.
The name "Living Stereo" comes from the fact that stereo was just an emerging concept in the '50s. Before stereo, everything had been in mono. In 1953, RCA Victor began experimenting with its first recordings that were "binaural," meaning two microphones were used with the intent to create a 3-D sensation, so the listener feels as if they're in the room with the musicians.
The following year, RCA brought their equipment to Symphony Hall in Boston as conductor Charles Munch led the Boston Symphony in a performance of Hector Berlioz's The Damnation of Faust. The RCA engineers recorded the performance on both mono and two-track tape for the first time ever. These experiments were the start of the stereo era. Another game-changer came several years later when three-track recording was developed. The three-channel stereo recording gave engineers greater flexibility in mixing both mono and stereo releases.
I'm a lifelong music fanatic, but an audiophile I am not. That said, I'm fascinated by the audiophile world. Only in the last year have I begun to dip my toes in this scene, Googling things like "best sounding records ever" in my spare time. When reading about albums deemed to be audiophile-quality, I noticed that RCA Living Stereo kept popping up. I'd seen the iconic Living Stereo logo on well-worn records in record store dollar bins for years but never gave them a second thought. How can it be that with all the advances in technology, recordings made over a half-century ago are still considered by many to be the gold standard?
Throughout my research, one particular Living Stereo title kept catching my eye. The album's campy cover featured a witch stirring a cauldron filled with instruments underneath bright ghoul-green text that read WITCHES' BREW. I'd been looking for Halloween-y albums to feature for 360°Sound, and then a light bulb went on. This rare audiophile gem from 1958 is an excellent primer for my foray into the magical world of Living Stereo.
Recorded on Dec. 5-6, 1957, in London's fabled Kingsway Hall, Witches' Brew consists of six selections performed by the New Symphony Orchestra of London under the direction of conductor Alexander Gibson. Witches' Brew is unique in the series in that it's a compilation, and it adheres to a spooky theme – the most on-brand inclusion being Witches' Ride from the opera Hansel and Gretel. The opener, Tam o' Shanter Overture, Op. 51 by Malcolm Arnold and based on the Robert Burns poem, was only a few years old at the time of the recording. The other pieces are by Romantic composers Modest Mussorgsky, Franz Liszt and Charles-Camille Saint-Saëns.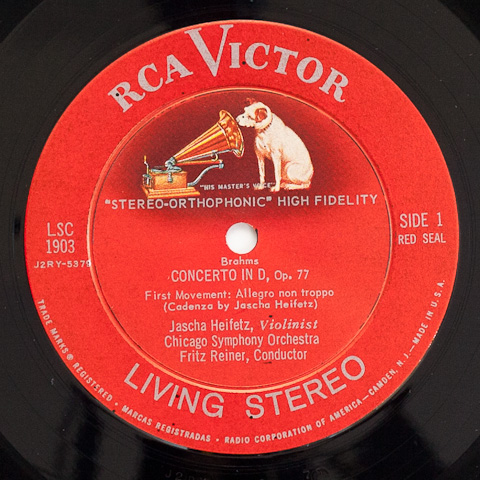 As a hi-fi newbie and someone with limited knowledge of classical music, I wanted to find out what made this particular recording so special. Why is it one of the more well-known and sought after Living Stereo titles? Why do people plunk down upwards of $300 for "shaded dogs," as the original pressings are known? [The label features a dog facing a gramophone over a shaded background].
To answer these questions, I spoke with audiophiles, classical enthusiasts, record collectors and mastering engineers. Because these shaded dogs have such appeal to the most discerning of listeners, audiophile labels like Classic Records and Analogue Productions (AP) have reissued many of the records, cut directly from the master tapes. AP even recently released Witches' Brew and about a dozen other Living Stereo titles on reel-to-reel format, selling them for a whopping $450 a pop.
Witches' Brew in Pop Culture
Jade Getz, a Seattle-based record collector who considers herself more music geek than audiophile, loves the Living Stereo releases. She told me she stumbled upon them while thrift shopping years ago and became fascinated by their look and sound. Getz once sold a VG++ original copy of Witches Brew' for $250 and has seen it go for $850 on Discogs. She said while many people find classical music to be intimidating, Witches' Brew is accessible because many of its pieces have appeared in popular culture.
"Danse Macabre has been featured in a bunch of films, most notably Disney's short animation Silly Symphony, and the trailer to the 1920s silent horror film Häxan," Getz told me. "A Night On Bald Mountain is from Disney's Fantasia. [Witches' Brew] is dark, but it's also fun and playful, and the cover art perfectly reflects this mood. It has a very approachable Disney feel."
Rod Ellwood, the founder of a Facebook group devoted to Living Stereo records, said Witches' Brew is an audiophile favorite because of its great sound, performances, and selection of thematically related pieces. He said it's also special in that it's one of a handful of RCA titles recorded by Decca Records in England.
"Danse Macabre is sublime on this album, with the famous roar of the London Underground tube train heard running under Kingsway Hall during the quieter parts," he said.
When I asked Montreal-based Italian audiophile Fabrizio Caprioli what he loves about Witches' Brew, he said: "Dynamic range, bass extension, the naturalness of the hall sound, and high-frequency extension."
He said he likes Tam O'Shanter "for the fun," Danse Macabre "for the strings tone," and A Night on Bald Mountain "because it's so popular that anyone can appreciate the difference between a good recording and an exceptional one."
Caprioli directed me to Jonathan Valin's The RCA Bible: A Compendium of Opinion on RCA Living Stereo Records. In the 1993 book, Valin wrote that Witches' Brew was one of his very favorites of the 500+ shaded dogs, describing it as "absolute sonic dynamite with stunning mid-band dynamics, presence, texture and detail."
Master Engineers at Work
Witches' Brew was produced by London's Decca Records, but it was paid for and sponsored by RCA Victor. The engineer of the recording sessions was the masterful Kenneth Wilkinson. In The RCA Bible, Decca producer Ray Minshull described to Valin how exacting Wilkinson was. He would "prowl the recording stage with a cigarette – half-ash – between his lips, making minute adjustments in the mic setup and in the orchestral seating," Minshull said. Wilkinson made sure everyone was located where he wanted them so that the mics would reflect the proper balances.
Musicians tend to bend toward the conductor as they play, but if such movement became excessive, Wilkinson would rush on stage and chew them out before reseating them properly.
"He wanted the musicians to stay exactly where he had put them," Minshull said. "He was the steadiest of engineers, the most painstaking and the most imaginative. In all of his sessions, he never did the same thing twice, making small adjustments in mic placement and balances to accord with his sense of the sonic requirements of the piece being played."
Seeking more perspective on the engineering, I reached out to Matthew Lutthans, the mastering engineer behind the pricey Ultra Tape reel-to-reel reissue of Witches' Brew, among other titles. Lutthans works at The Mastering Lab, owned by Acoustic Sounds, a Kansas-based global supplier of audiophile releases and the sister company of Analogue Productions. Lutthans told me the Living Stereo recordings done in conjunction with Decca are "tremendous, legendary performances."
"They used fantastic microphones in excellent recording venues with the recordings overseen by engineers and producers who had very good taste and instinct," he said. "The human element involved in those recordings was top notch. On top of that, they had some of the finest orchestras in the business. No series scores a 10 out of 10 every single time out of the gate, but the Living Stereo series is right up there."
Vintage Equipment for an Authentic Sound
Benjamin Moyer, a Michigan-based audiophile in his 20s, told me that with Halloween approaching, he decided to finally pull the trigger on a NM- original copy of Witches' Brew for $250 on Discogs. Moyer said he's a "period correct" Living Stereo enthusiast in that he uses all vintage equipment and only buys shaded dogs.
"My stereo setup would have been state of the art circa 1962 to match the majority of my stereo pressings, which are late '50s, early '60s."
His review of Witches' Brew: "Excellent sound quality as one would expect. Early RCA pressings, in general, had an unusual degree of stereo separation. This is part of what makes the Living Stereo series so special. Very balanced sound overall, formidable bass, clear highs."
Moyer added that he'd place Witches' Brew in the 95th percentile for excellent Living Stereo recordings.
Using Modern Technology to Improve Sound
Ryan K. Smith is among the most in-demand mastering engineers in the country. He's worked at Sterling Sound for 18 years and was trained to cut vinyl by the late George Marino, who mastered and remastered thousands of albums by a who's who of rock stars over a 40-year career. Much like his mentor, Smith has mastered a wide variety of artists, from Beyonce and Britney Spears to Mudvayne and Monster Magnet. Smith was nominated for Grammys for his work on the Greta Van Fleet and Deva records.
Smith also masters audiophile reissues for Analogue Productions. During a fascinating 45-minute phone conversation, he told me about the process of remastering the Living Stereo releases from the original master tapes.
He explained that, in the early days of stereo, RCA recorded straight to a stereo tape machine with a left/right configuration. Later in the '50s, RCA got three-track technology, so they started recording with a left/center/right configuration. Smith said the engineers would edit the three-track recordings until they found the performance they wanted from the different takes. They would then mix the three-track tapes down to a stereo tape to produce the original vinyl record.
"We were actually able to follow that same process for the majority of the [Living Stereo] records," Smith said. "We have three tracks, and I re-balance the three tracks straight from those original tapes, which have all the edits. I mix those down to analog, the same as they would have done back in the '50s and '60s. We basically created a new stereo master then cut our vinyl directly from that. It was 100% unprocessed."
Smith told me he thinks one of the reasons the reissues were so successful was because they did not have to use compromised sources on almost any of it. For the most part, the original tapes for all the sessions were accessible and in really good shape.
Respecting the Original Artistic Intent
Whenever Smith works on a reissue, he tries to get a copy of the original pressing as a reference.
"When you're working on a new record, you're usually working with the artist to create something new," he said. "When you're doing a reissue, all that decision-making happened a long time ago, so I feel like you have to respect the original artistic intent. You don't want to reinvent the wheel. But you want to take advantage of better technology."
Smith told me that although he's still cutting in analog, tape machines today are more reliable and have a quieter signal path; this allows for more resolution and reveals previously hidden detail. With modern-day cutting systems, engineers can put more information on a disc than they could in the '50s and '60s.
"We're going to great lengths to give [audiophiles] the best presentation possible," he said. "I'm not going to try to re-EQ the sonics to something totally different. I'm trying to take a filter off basically so that you hear past some of the technical limitations from way back. All the information was there, but the limitations of the playback and cutting systems they had didn't allow it all to make it to the final disc."
Low on Distortion but Plenty of Feedback
Smith said he has received mostly very positive reviews from audiophiles. [He did not remaster Witches' Brew for Analogue Productions. That was done by the late Willem Makkee in Germany.]
Sander Bakker, a music enthusiast in Amsterdam, told me he has around 30 of the AP Living Stereo reissues. "They are all fantastic!" he said. "To my ears, they sound warm with a lot of depth and a wide soundstage."
In a review published on the blog From Miles to Mozart, the writer, who goes by the name Aqlam, noted that while he enjoys the original Witches' Brew and gives it an 8/10, the bass suffers from "boominess" and distortion.
"I can say that this AP reissue handily addresses this, and the results are a marked improvement," Aqlam wrote. "Not only is the bass tighter and cleaner, but it has even greater depth and impact than on the original. In addition, surfaces are super quiet, making for a black background that really allows for more clarity and detail to be appreciated. Dynamics pack a huge punch. Similar to the original shaded dog, the sound staging on this album is stunning."
A commenter on the notoriously critical Steve Hoffman Forum panned the mid-'90s Classic Records reissue of Witches Brew' for having a "harsh, steely string tone."
When I asked Ryan Smith how he thought his Living Stereo reissues compared to the originals and the Classic Records versions, he said that the frequencies on his reissues are more extended on both the high and low frequency ranges.
To some, this difference isn't necessarily an improvement, as Living Stereo has a reputation for a warm prominent midrange.
"Reissues have better highs detail and bass extension, but they lose that midrange magic that original UK or US pressings have," Caprioli, the Montreal classical records aficionado, told me. "At the beginning, they seem more spectacular, but after a while you get bored."
I discovered early on in my research that audiophiles meticulously compare different pressings and formats of the same album. When I first asked Caprioli about Witches' Brew, he promptly provided a ranking of his Top 5 versions. Caprioli happens to be fond of the Classic Records reissue, ranking it as his second favorite after the original UK pressing.
Living Stereo for the Digital Age
In the early '90s, BMG Classics, owner of RCA Victor, started reissuing the Living Stereo series on CD. Then, about 15 years ago, they remastered the classical titles as Super Audio CD (SACD), a format that offers more audio channels and a higher bit rate than a standard CD. While SACDs never broke into the mainstream, as creators Phillips and Sony had hoped, the format remains relatively popular in audiophile circles.
To learn more about these SACD reissues, I spoke with John Newton, founder of Boston-based Soundmirror, one of the top classical music production companies. Newton supervised BMG's SACD project, remastering 160 Living Stereo LPs as 80 SACDs.
In addition to its higher fidelity, Newton said SACD was chosen as a format because many of the Living Stereo titles were recorded with three-track machines. While the three-track was mixed down to stereo, SACD playback allows for all three channels.
"A lot of the orchestra recordings were made with left, center, right presentation on the tracks, which lends itself perfectly to surround sound listening," Newton said.
Witches' Brew, however, was recorded as a two-track and was not included in the SACD reissue series. [AP released an SACD version of Witches' Brew in 2016.]
"All of the Living Stereos are special recordings," Newton said. "They combine the best of the musical performances and the technical capabilities at the time."
Which Version is Best?
Ultimately, it comes down to what version most pleases your own two ears. When I asked Newton about the "best format," he replied: "There's no best or worst or middle consumer format. There are only formats that particular customers wish to buy or have."
While we may never come to consensus on the best sounding version of Witches' Brew, this 62-year-old recording continues to bewitch audiophiles.
As the original liner notes read, if Witches' Brew didn't cast a spell, "so many listeners wouldn't be returning to it on so many occasions, somehow feeling constantly refreshed."