I recently had occasion to interact with REM bassist Mike Mills on social media about his old band's classic album and commercial breakthrough, Out of Time. I had @ed Mike as part of my reply to a tweet, in order to compliment him on his lead-vocal turn on "Texarkana," one of my favorite tracks on that record. I've been a huge REM fan since a friend of mine with a college radio show turned me on to Chronic Town back in '82, so it was really cool to get a reply from the man himself.
Let me stop you before you get dizzy rolling your eyes. The original tweet to which I replied asked if Out of Time had been a "sell out" by the band. The spirit of my reply was that it's a great record, but at the time it was released in 1991 it felt a little "selly-outy" to me (yes, I said that). Mike's reply to my reply quite firmly objected to the use of the term "sell out." This opened the door to a fair number of folks echoing his objection. It did get a little "piley-onny."
To be quite clear, I've found Mike Mills to be a gracious and considerate fellow (and a great follow). Admittedly, my reply that started the thing had a whiff of disingenuity. I do not think in 2020 that REM "sold out" in 1991. And while I would have preferred to be chopping it up about the various nuances of Out of Time, bless these devoted REM tweeple; they led me to confront some of my time-honored fan-boy demons.
Tweeter @badmunkey74 put it like this, "Overly popular and played to death does not mean they sold out." Well said. The relative popularity of any band or record isn't necessarily a reflection of that band's intent. Most recording artists intend to make good music that people will like. And in this case, as Mr. Mills astutely pointed out, "selling out" doesn't typically involve a five-minute long, mandolin-soaked lead single with no chorus.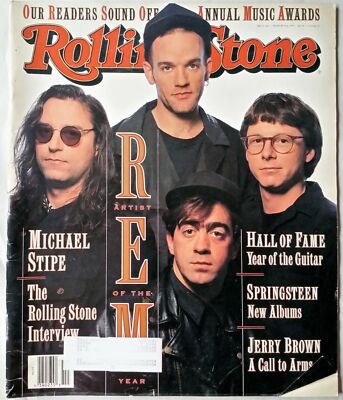 REM had the audacity in 1991 to reach a broader audience. According to me at the time, an audience of bandwagon front-runners, many of whom scoffed when we spun Murmur, Reckoning and Dead Letter Office in our parents' basements in the mid 80s. Once everybody was in on it, and "Losing My Religion" was playing at the mall, it just wasn't the same anymore. They were rock stars. They were (presumably) getting paid. And I was on my own, with a brand-new Philips CD80 deck and record stores stocked to the nut with incredible new stuff nobody ever heard of.
It's almost 30 years later now, and Out of Time stands as a paragon of creative integrity coupled with commercial success. As many pointed out, it seems like a natural artistic progression, the culmination of an immensely creative decade.  There's little, if any, sense of commercial calculation. The album resonates because it has a timeless quality. So, while legend has it that the title came about because they literally ran out of time, I now take it to mean that this work exists unbound by time.
I recently picked up a CD copy for $5 and I've spun it a few times this past week.  It sounds rich and thick and beautiful, particularly on headphones. (By the way, if you don't think there's going to be a second wave for CDs you're crazy, because this disc sounds fucking awesome.) From "Radio Song" to "Me In Honey" this is a landmark American rock recording and one of a number of peaks for REM. I stand by what I thought in 1991, but I changed my mind along the way. Out of Time is of itself, not of a particular moment. And I promised Mike I won't use that term that shall not be mentioned anymore. Fair enough?
(360°Sound does not have express permission to use the images featured in this piece.)
Now stick & stay and help yourself to some more…