Ah, New York in February. The wind stole up the avenues and down the streets like a thief threatening to rob me of every degree of body heat. Perfect weather for staying inside and listening to top-shelf audio gear. I attended this year's CanJam in Manhattan on the prowl for circumaural headphone sets, meaning the headphones are an around-the-ear design. I teased our forthcoming headphone CD player last year in NYC. So, with the player close to completion, I was looking for headphones to complement it.
I limited my search to sets that retail for under $1,000. I did not preview many in-ear monitors. Full disclosure, I haven't done much sustained listening with any of these products, just enough to get a first impression.
My reference recording when listening straight from my iPad was the latest David Byrne record, American Utopia. I saw his Broadway show of the same name while I was in the city and loved it. I also listened to the 2005 remaster of Talking Heads's Speaking in Tongues and their Eno-heavy Remain in Light. I also mixed in some Springsteen, Lyle Lovett, Charles Mingus and other good stuff.
Here are my top picks under $1k at CanJam:
Meze 99 Classics
The Meze 99 Classics were my favorite headphones in NYC. They deliver a well-proportioned musical presentation with a pleasant scooped character that kept me coming back to the Meze exhibit as a reference. While I usually prefer an open-back set, the walnut wood earcups form a very listenable resonant chamber. Their light weight (260g), soft earpads, and spring-steel headband are sure to make the 99 Classics part of my regular rig.
I offer my in-depth thoughts on the 99 Classics in an upcoming review, but I honestly can't say enough about these headphones or give them a stronger recommendation. You will not find performance like this, or industrial design as elegant as this, anywhere near this price point. When I shared the set I scooped up at the show with one of the engineers on our CD player project his immediate response was, "Man, I'm gonna get a pair of these for my studio!" The 99 Classics were the best value I found at CanJam.
Retail Price: $309
Impedance rating: 32 ohms
Frequency Response Range: 15Hz – 25kHz
Driver Sensitivity: 103dB/1mW
mezeaudio.com
Campfire Cascade
Good low-frequency response makes me happy and Cascade's 42mm beryllium PVD drivers deliver an exceptional bass experience. Acoustic bass, which tends to disappear or thin out with many headphones, is particularly present and satisfying. Cascade also features excellent high-frequency extension; there's a shimmer and twinkle that brings great recordings to life. The mid-frequency range is clear and transparent.
I like the rectangular ear cup design of this closed-back set. And the included sheepskin ear pads are particularly comfortable. Cascade is constructed of aluminum and steel, and at 13.5 oz (383 g) this is a heavier rig. I needed to get the headband positioned just right for them to feel properly balanced. I'd like to be able to snug up the headband a bit more, but I like the adjustable ear-cup angle.
Campfire have designed Cascade with mobile use in mind, and their efficiency seems great for mobile devices. Actually, on some more-compressed recordings this set can be a little too hot. Given their detailed sonic profile, I like them for more refined listening on laid-back recordings. The weight and fit don't suggest mobile to me, I must admit.
Retail price: $799
Impedance rating: 38 ohm
Frequency Response Range: 5Hz – 33kHz
Driver Sensitivity: 100dB/1mW
campfireaudio.com
Andover Audio PM 50
I was not previously familiar with Andover as a headphone maker, but their PM-50s impressed me. The 50mm planar magnetic drivers create a well-balanced and natural listening environment. I prefer open-back designs like this, and the PM 50s gave me a nice in-room sense of space.
These are a medium-weight set with attractive walnut trim and a comfortable headband. They come with two ear pad options, however neither one had that Goldie Locks just-right feel for me. The fit was a little close around my earlobes. James DiPaolo, Andover's marketing director, told me they are looking at some additional ear pad options.
The PM-50s proved to be pretty versatile from their demo rig to my iPad. Detailed and musical with accurate frequency reproduction. This set is coming on.
Retail price: $500
Impedance rating: 32 ohms
Frequency Response Range: 15Hz – 50kHz
Driver Sensitivity: 102dB/1mW
andoveraudio.com
Beyerdynamic DT 990
The DT 990s are well known to studio pros and audiophiles. I like their open-back design that allows for some ambient room sound even at higher volumes. At this show, the wide soundstage gave the impression of listening to music over loudspeakers. I listen to a fair amount of rock and pop music and the DT 990s are well-suited to the many variations of these styles. At 250 ohm rating, they are a higher-impedance set (similar to my beloved Sennheiser 650s) and my iPad lacked the juice to drive them sufficiently.
The industrial design of these phones is straight from central casting. Their round ear cups cut a cool profile and provide plenty of room for my fussy ears. They feature unique velour ear pads that are pleasant to wear, and they don't create a seal around my ear, which I happen to like.
Retail price: $599
Impedance rating: 250 ohm
Frequency Response Range: 5Hz – 35kHz
Driver Sensitivity: 96dB/1mW
beyerdynamic.com
Focal Elegia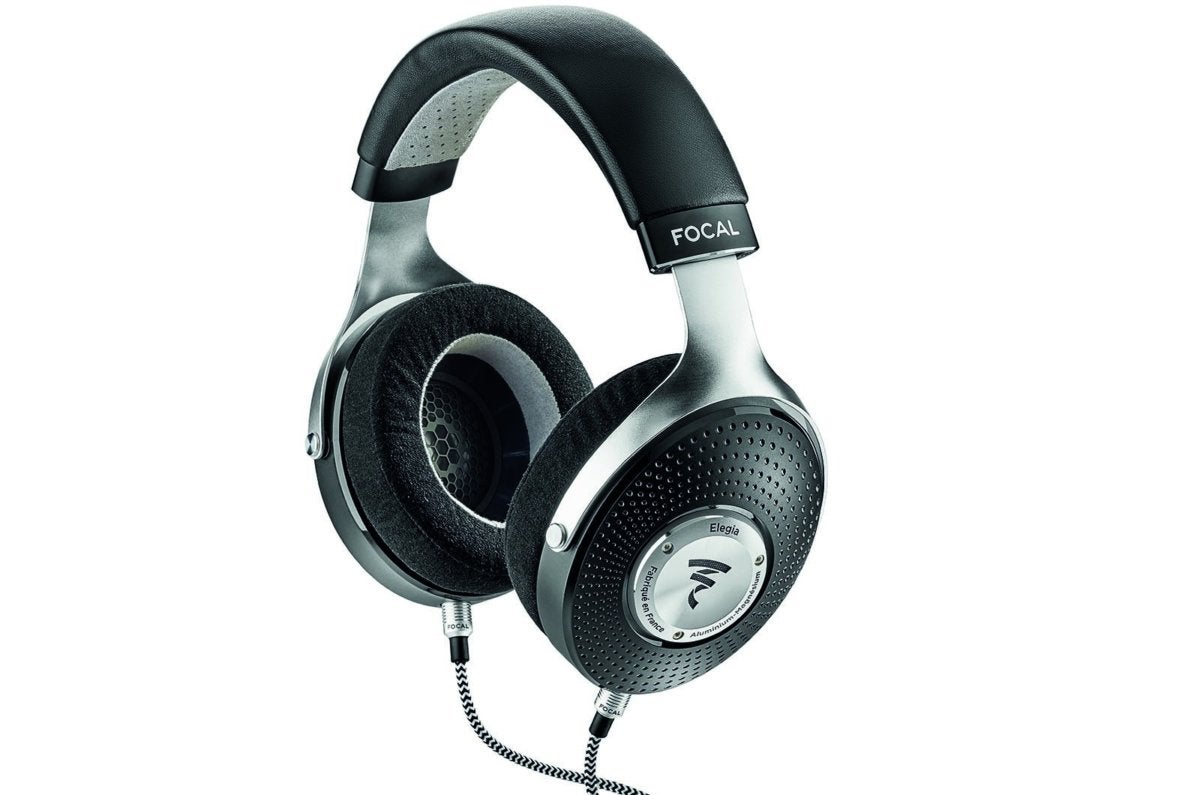 Focal's Elegia have a clean, classic EDM DJ look and feature a closed-back design. Their aluminium/magnesium dome drivers provide excellent high-frequency response, which is this set's stock-in-trade. Romain Vet, Focal's VP of marketing, also highlighted Elegia's lightweight yet rigid frameless voice coil, which makes them particularly satisfying on detailed recordings. These phones create a balanced and proportional listening environment. The roomy ear cups and comfy plush ear pads promise long-session comfort.
Retail price: $900
Impedance rating: 35 ohm
Frequency Response Range: 5Hz – 23kHz
Driver Sensitivity: 105dB/1mW
focal.com
Audeze LCD1
The Audeze LCD-1 sport impressive industrial design, and are still fairly light weight at 250g. With their foldable design, the LCD-1 are compact and seem travel-friendly. I was informed that they were engineered for comfort, convenience, and premium quality sound — I think that's fair. Another planar magnetic rig, these open-back phones have a professional sense of balance. Punchy on modern recordings, and sophisticated enough to tackle more nuanced material. This is a solid value for personal hifi listening, as well as with mobile devices and for pro-audio mixing.
Retail price: $399
Impedance rating: 20 ohm
Frequency Response Range: 10Hz – 50kHz
Driver Sensitivity: 99dB/1mW
audeze.com
Hifiman Sundara
The Sundara (Sanskrit for "beautiful") are yet another open-back, planar magnetic set. (A theme is emerging.) At 37 ohm rating, these phones are low impedance, but you need high output to drive them. Roger Fortier, Hifiman's marketing and sales director, chalked this up to efficiency.  "There's impedance and then there's efficiency," quoth Mr. Fortier. A delicate balance indeed. When ridden hard, Sundara are dynamic and ballsy.
I like the open-back aesthetic. The ear cup grills remind me of an old radio or a school record player from the old film-strip days. Weighing in at 372g, these aren't the lightweight champions, but with their nicely-adjustable, weight-dispersing headband this is a very comfortable set.
Retail price: $499
Impedance rating: 37 ohm
Frequency Response Range: 6Hz – 75kHz
Driver Sensitivity: 94dB/1mW
hifiman.com
There were other great headphones at CanJam NYC 2020, from makers like Sennheiser, Fostex, PSB and a number of others. A fella could spend an entire weekend sampling different rigs. There was definitely enough variety in this price range to satisfy just about any head. Now, if only there were a headphone CD player to drive them…
Related posts:
CanJam NYC 2019
CanJam RMAF 2018 Pt 1
CanJam RMAF 2018 Pt 2
CanJam SoCal 2018
David Byrne: American Utopia tour— Oakland, CA